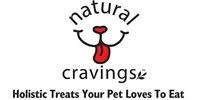 We are a family owned and operated company dedicated to making healthy and delicious treats, chews and bully sticks that your pets will love to eat. We only source proteins without added antibiotics and that are treated humanely as well as being sustainably sourced. We are a company that takes pet health very seriously, we take time to investigate the products we sell so that you don't have to.
At Natural Cravings, we source everything in the USA, this process starts with our USA livestock, and continues with our manufacturing and packaging in our warehouse in Homestead, Florida. We offer single ingredient products such as bully sticks and chews as well as treats with limited ingredients that remain healthy and at the same time delicious for your pet! Our entire line is slow roasted in human grade ovens to guarantee high quality while maximizing flavor for your four-legged fur friend.
The media is full of reports of rare illnesses, joint swelling, excessive weight gain, blindness and even death in pets from consuming products that are imported Asia and other parts of world that are not as diligent to guarantee safety standards in their manufacturing and food processing. We understand that the folks that buy high quality dog treats also want all-natural products that are good for their pets but will not break their bank. Because of these reasons we have created Natural Cravings. We want to bring you 100% USA sourced and made dog treats as well as high quality that will taste delicious to your dog – and that we can guarantee!
We truly believe that... "Our food should be our medicine and our medicine should be our food" - Hippocrates
Our company is happy to support local recues and no-kill animal shelters.