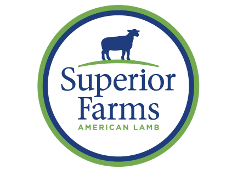 Superior Farms Pet Provisions is a division of Superior Farms. Founded in 1964 with headquarters in Sacramento, California, Superior Farms is North America's largest, and most sustainable, processor and marketer of lamb. 
We're an employee-owned company whose members take pride in their individual roles and contributions to the company's success and our customer's satisfaction. We wanted to create a company that produced quality treats for our 4-legged family members and yours! On March 16, 2018 we launched our brand Bark & Harvest™ and set out to provide authentic farm-fresh pet treats and chews.  
We're in a unique position as both the farmer and butcher of meats for human consumption to be the true farm-to-pet option for consumers who love their pets. We know each one of our family farmers. We are employee-owned and care deeply about the product we create. And finally, we make sure that our animals are harvested humanely and that nothing goes to waste.
We provide pet owners a high-quality, responsibly sourced and manufactured line of pet treats that are the perfect treat for your dog- any size, any breed, and any personality! We love the Bark & Harvest line and think dogs everywhere will too.